Are you tired of your haircut? Do you want to make a positive change to your mens hairstyle or are you simply looking for a way to tone your hair? Whatever is your answer, I'm here today to show you how to style mens hair and to make it so fashionable for every situation.
In this regard I have created a video tutorial in collaboration with Blumaan that I want to show you to let you know what is the basic trick for a super cool style.
Do you like this video about how to style mens hair?
Subscribe now to my Youtube channel and let me know by commenting below the video but above all do not miss the new videos I'm preparing for you about mens hairstyle with new interesting looks and trends of the moment, Thanks in advance! 😉
As you can see from the video what you need is simply an hairbrush, an hairdryer and of course a good quality hair wax.
In this video I used Blumaan wax a real example of quality products that I invete you to use, there are different kind of wax, matte finish, heavy hold or simply soft hold, everything you need is just to select what respects more your needs.
So what's the secret to get an excelent men's haircut similar to mine?
The truth is simply to use high quality products, you will never get results like that if you use low quality products, but remember that a good hand could make the difference for mens hairstyle, always!
How To Style Your Hair For Men
Before styling your hair for men it is good that you find a cut that suits your face, so the first thing you will absolutely have to do is to go to your barber of confidence expressing your preferences about the look you have in mind to realize.
First of all, it is good that you know that today the must have are shaved hair on the sides with a well-defined shade, the second thing to make a short mens hairstyle you have to consider various aspects.
If you have a hard and well defined face you can also benefit from an haircut a little more longish otherwise if you have a more rounded face a well marked shaving will take off your face and improve your appearance, obviously much better if combined to the beard.
Mens undercut hairstyle – 5 Ideas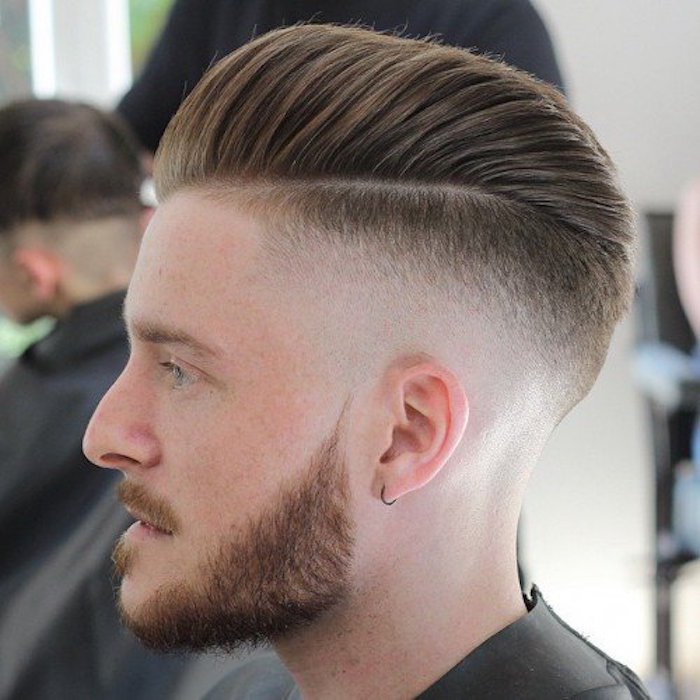 Lately it is very fashionable among mens hairstyles the Pompadour look, this style that you see in the picture, where we find shaved hair on the sides with a shade ranging from 0 to 3 mm while the hair above is voluminous and facing backwards without hanging on one side or the other.
To make this mens hairstyle just simply stretch the hair at the top up to about 7cm and direct from your barber to make the shading on the sides.
Then, to emulate this look, simply use the technique that I showed you in the previous video, taking care to turn the hair backwards without letting them hang on the sides, sprinkle some good quality hairspray and that's it.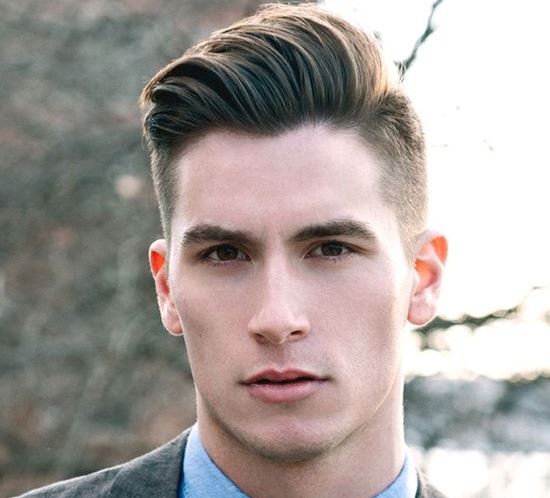 Modeling short hair for men is an art of a few, but with my advice you might be able to get a look like the one you see in the picture. In this style the hair is arranged on one side, to achieve this look you will have to perform exactly the movements you saw in the video above, if you want you can also match a 4 days uncultivated beard.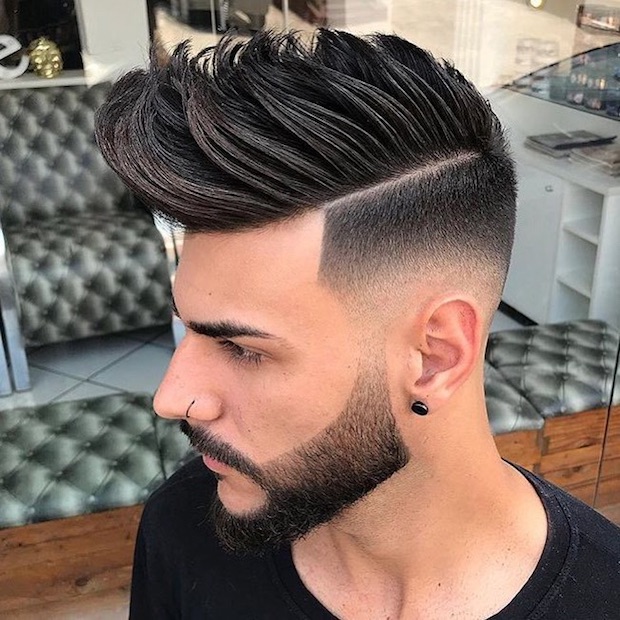 This is an hairstyle for very fashionable men in recent times, it is a cut that we could call banana for its shape. Making it is very simple, after giving volume to the hair with the hair dryer and have laid them out a bit will not be enough to pull the tips forward with good quality wax and you will get the desired result, naturally the nuance will be the task of your barber achieve it.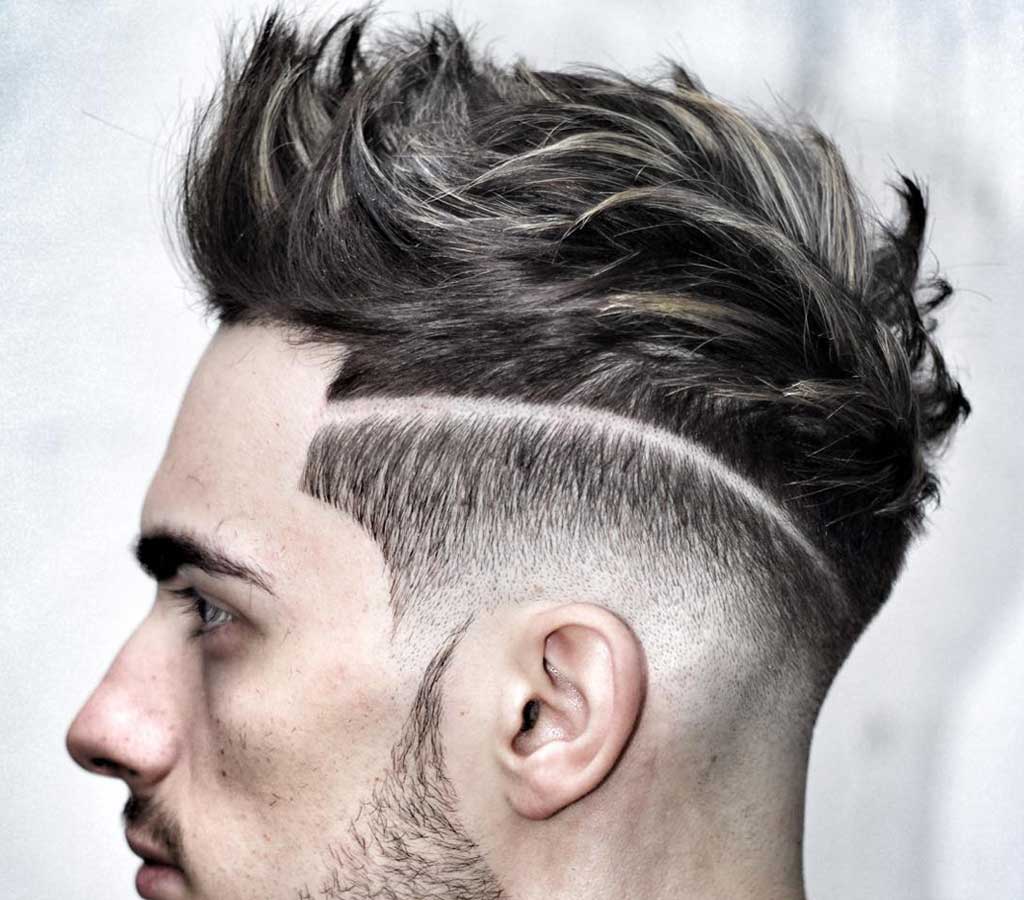 This is what you see instead is an haircut for a casual man with line and shade on the sides, it is a short men's hairstyle for men very popular among young people and to achieve it you have to grow hair at the top of the head at least 8cm and then with a bit of wax in your hands you will have to shake some hair in the direction you prefer and pass a couple of times the fingers in the front tuft to give it an acceptable but not too regular shape and your hair look cheeky is ready to hit.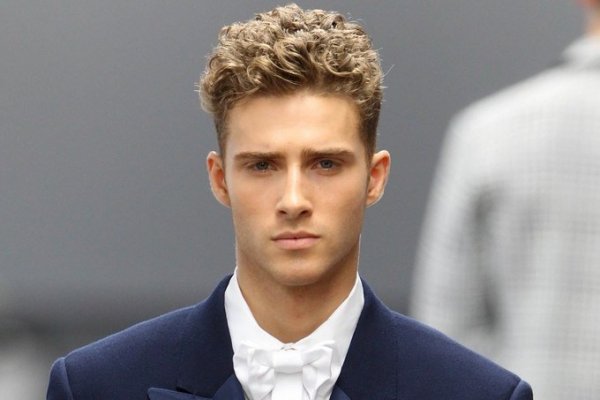 Quiet, I have not forgotten about you with curly hair, what you see in fact is a viable alternative for those who can not get results like those seen in previous images but who still want to be fashionable and stay well with themselves. It's a very cool and tidy style and among all the short haircuts for men I'm sure it's the one with which you'll surely hit more!
So before concluding I want to remind you one more time risking also to be repetitive that whatever is among these the short mens hairstyle that you liked more know that to realize it will be very important the quality of the products that you will use, with a 2$/£ wax will never get the desired effect.
Thanks for being with me, if you've liked the video about "how to style mens hair" share it with your friends on FB or Twitter and subscribe to my YouTube channel to not lose the new videos I'm preparing for you, see you soon!!
We are sorry that this post was not useful for you!
Let us improve this post!
Tell us how we can improve this post?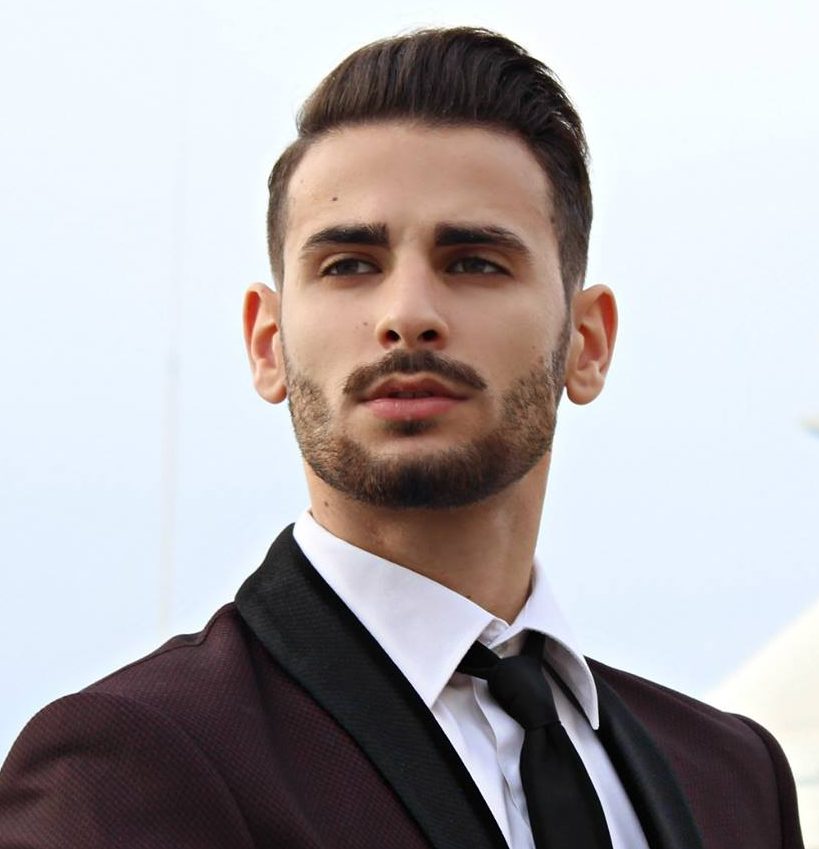 Hi, I'm Corrado Firera, digital entrepreneur and Italian blogger. I founded this website in 2017, since then I write fashion and lifestyle articles. To get further information about me or the web site, go directly to the "about me" section. Good continuation!!