Creating a website is now possible, whatever your level. The offer has indeed been strongly developed and democratised. Among the solutions offered, Hubside stands out, notably for its ease of use. After only one year of existence, the platform has enabled hundreds of thousands of users to create their website. Hubside, whose ambassador is Joe Wilfried Tsonga, can boast of a strong start despite a very competitive sector. We propose to discover more about this website creation tool with its functioning, its features, its offers as well as the customer reviews.
Hubside features
Hubside, launched in June 2018, is a turnkey solution to create a website in just a few minutes. This tool, 100% French, indeed offers an intuitive, easy and fun interface that requires no software installation or lines of code to enter.
All you have to do is follow the online guide that accompanies you every step of the way in creating your website. Don't panic: the tool takes care of all the technical aspects, so you don't need to have gone to engineering school!
In fact, you will have to choose a prefabricated design related to the subject or theme of your website: gastronomy, sport, crafts, fashion, beauty… The choice is vast! You must then fill in a classic registration form and choose a domain name for your site. This step is crucial, so take the time to think about the name beforehand, you won't be able to change it later! In addition, don't forget that this name also has a direct impact on your ranking in search engine results, hence its importance!
The next step is very simple: Hubside provides you with a pre-designed site, which you can customise with an easy-to-use web editor. For example, you can change the positioning of blocks using the "drag and drop" function, upload photos or videos, add content, choose colours, change fonts, etc.
For whom is Hubside made?
Whether you are a novice or an expert, Hubside is made for you! This tool, which is therefore for everyone, was designed to democratise the creation of a website.
It is also valid for the field of activity of your website: cooking, art, sport… You will be able to give visibility to your passion or your activity in a few minutes!
Companies can also use Hubside to make themselves known on the Net and thus gain visibility.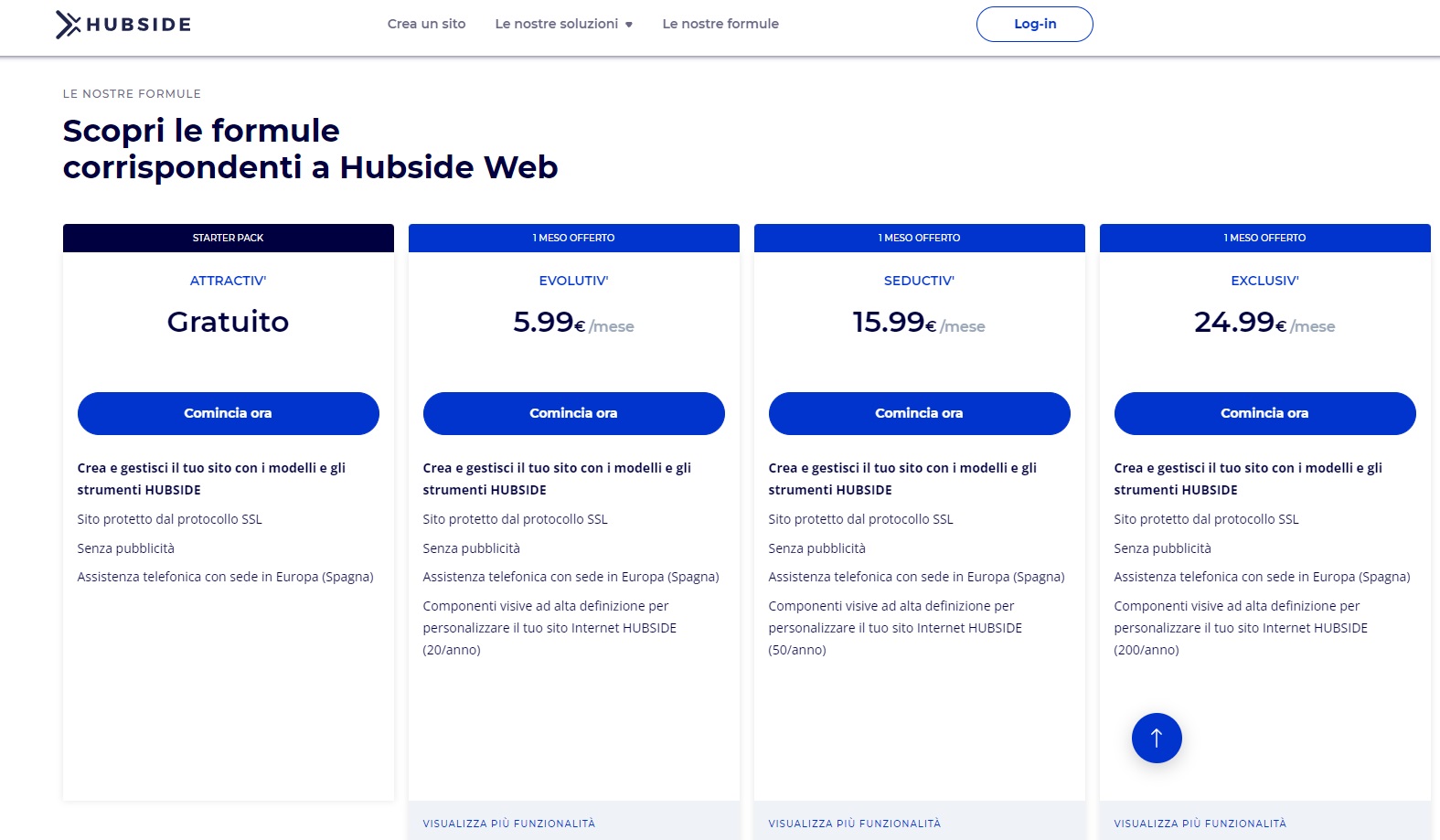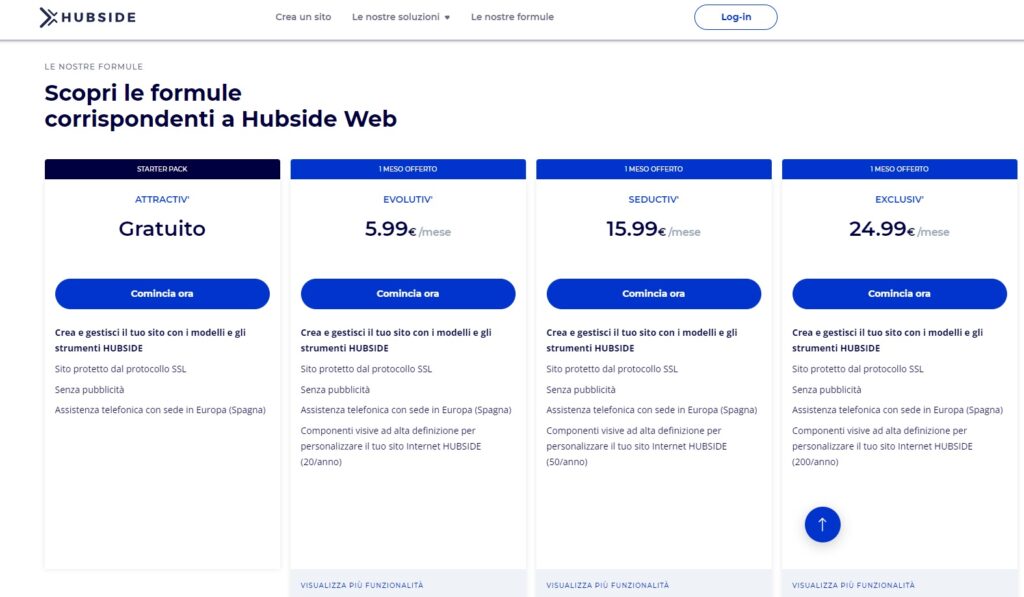 The offers proposed by Hubside
To take advantage of the services offered by Hubside, it is possible to subscribe to different offers. First of all, you can opt for the "Attractiv'" package which is free. It gives you access to all Hubside's tools and templates. The paid packages (at €3.99, €5.99 and €15.99 per month) give you access to additional features, such as :
technical support by phone and Antivirus license;
email boxes included;
storage space ;
custom domain name ;
High definition visuals;
Good to know: the first month of subscription is always free.
The question is which package to choose. To do this, you need to determine your needs in advance and carefully study the characteristics of each of the offers. For information, the "Exclusiv'" package is an interesting alternative for creating a quality website. You have a storage capacity of 1 Tera Byte, a personalised domain name and a choice of 100 high definition Getty Images. Enough to create your website in an efficient way!
Hubside diversifies its offers in order to meet everyone's needs. We can mention the "Paris Saint-Germain Exclusive" package which allows you to create a website with the colours of the famous football club. You have access to visuals of all the matches and players. But that's not all: you can join the My Paris Saint-Germain community and you get a sneak preview of match tickets, a €90 voucher for the club's e-shop (store.psg.fr), 10% off the club's products and access to PSG TV Premium as well as the digital press!
Hubside websites rendering
Hubside offers its users to create a high quality website in just two minutes. And the promise seems to be kept!
Thanks to the numerous templates as well as the large library of visuals available, you get an optimal graphic rendering, and quickly. Your site is attractive, fluid, ergonomic, readable and clear. And this applies to both computer and mobile browsing.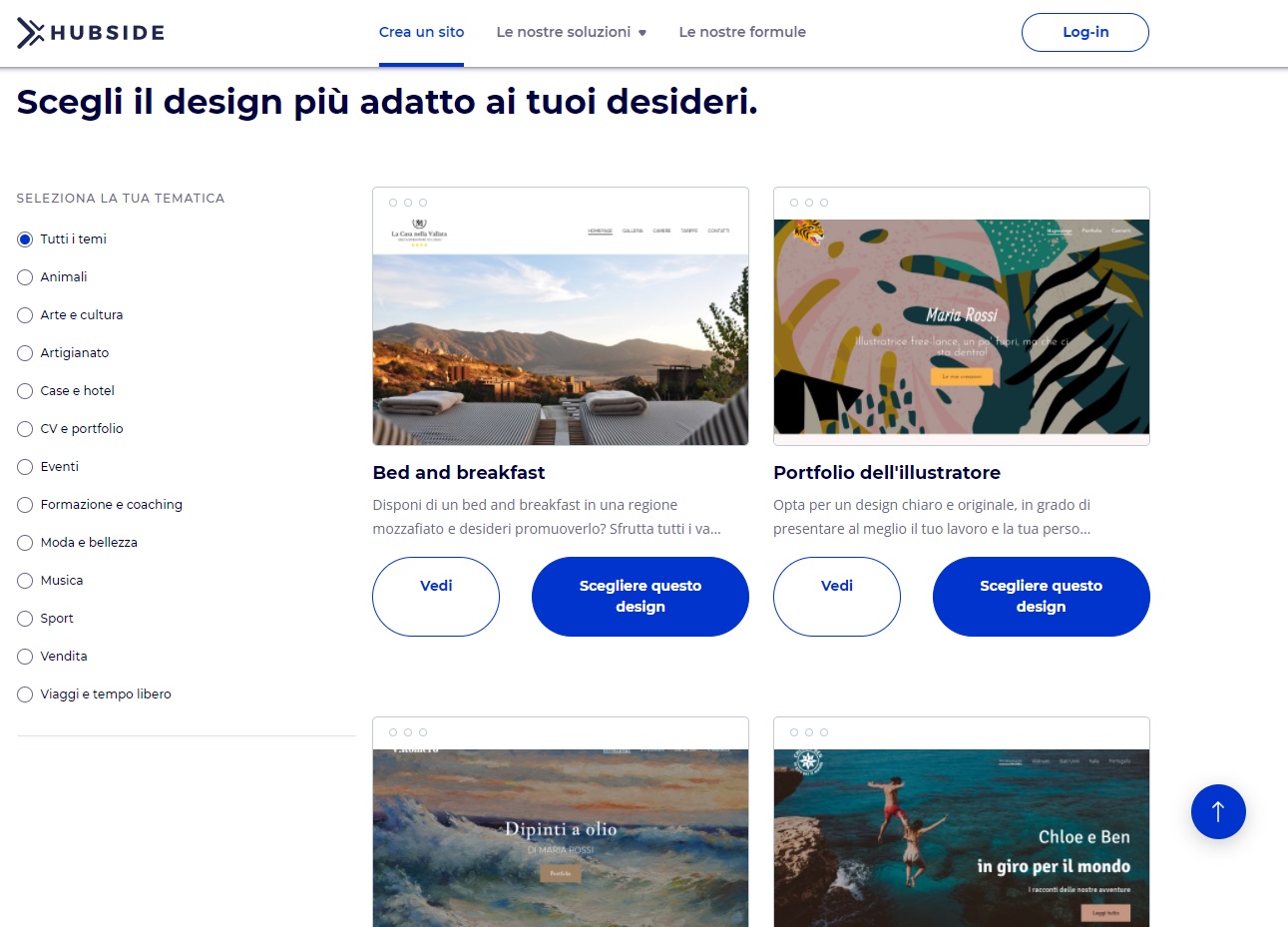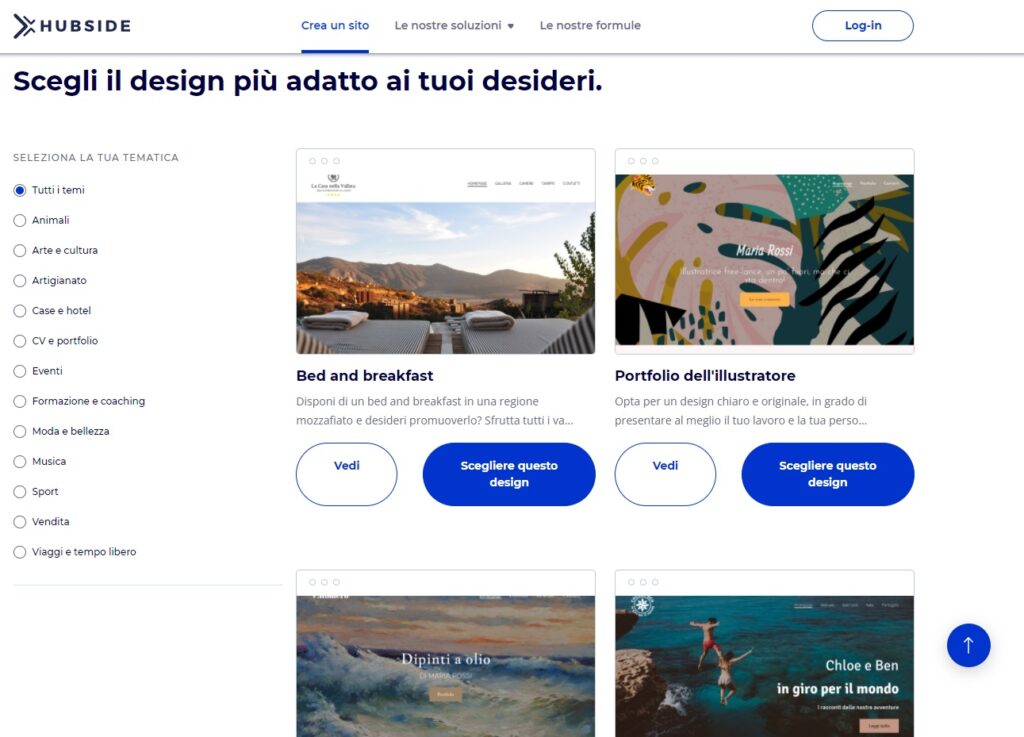 The advantages of Hubside
By choosing Hubside, you will benefit from an intuitive and simple tool that allows you to create your site's menu and different pages in a few clicks. To do this, you have access to numerous templates with a modern and neat design as well as millions of high definition photographs from one of the largest image banks in the world.
In addition, you can choose between several packages, which gives you a lot of freedom according to your needs. You can also change at any time and you are supported throughout the creation process: a team of teleconsultants is available 6 days a week for any technical assistance thanks to a hotline installed in France.
If you wish, you can also go to one of the 1,000 partner shops where touch-screen terminals are freely accessible to create your site. An advisor can then help you with your project.
The result is guaranteed. Your website is optimal and above all free of advertising, even if you choose the free formula.
The disadvantages of Hubside
Since nothing is perfect, Hubside also has some limitations, starting with the fact that it is not possible to change the domain once chosen.
It should also be noted that the tool is not open-source, so you cannot access the code or develop your own features. In addition, it is currently not possible to transfer data.
How do I know if Hubside is the right tool for me?
You need to ask yourself a few questions to determine if Hubside is the right tool for creating your website:
Are you new to computers?
Is your budget tight?
Do you have enough time to create a site?
Do you want to be accompanied?
Do you want a personal space to promote your activity or share your passion?
Do you want your site to be personalised?
What quality do you expect?
If you answer yes to these questions, Hubside is for you!
On the other hand, if you want to develop certain features or launch an e-commerce site, then this tool is not the most recommended.
The different services offered by Hubside
Hubside offers various features and services to best meet the expectations of its users.
#1 Hubside Budget
Budget is a bank account aggregator in the form of a web application available on computer, mobile or tablet. You can track your spending and view your budget, so you can manage it optimally.
#2 Hubside Drive
Hubside Drive is a cloud solution that allows you to store your files: photos, videos, audio, invoices… You have access to your files anytime and from anywhere!
#3 Hubside.Store
Hubside.Store is a new concept of shop dedicated to smartphones and connected objects. The best new or refurbished mobile models are presented to you. In addition, if you visit the shop, you can find smartboxes, mobile and multimedia insurance but also access a repair centre, Cheerz terminals, etc.
Customer reviews on Hubside
Reviews of Hubside are mostly positive, as evidenced by the average on the Trustpilot site of 4.2/5 for 7,543 reviews.
In general, customers are very satisfied with the responsiveness of the advisors, their advice and the waiting time. The simplicity of Hubside is also underlined, especially in terms of its handling, as well as the results obtained.


How to get in touch with Hubside?
You can contact Hubside's advisors by phone at 04 75 24 24 60 (Monday to Friday from 9am to 9pm and Saturday from 9am to 6.30pm). You also have the possibility to open a chat in order to exchange in real time with an advisor and to be accompanied during the creation of your site.
How to subscribe to a Hubside offer?
To sign up for a Hubside offer, simply log in to the Hubside.com website. You can also visit one of the brand's partner shops. To do so, check out the list of shops near you.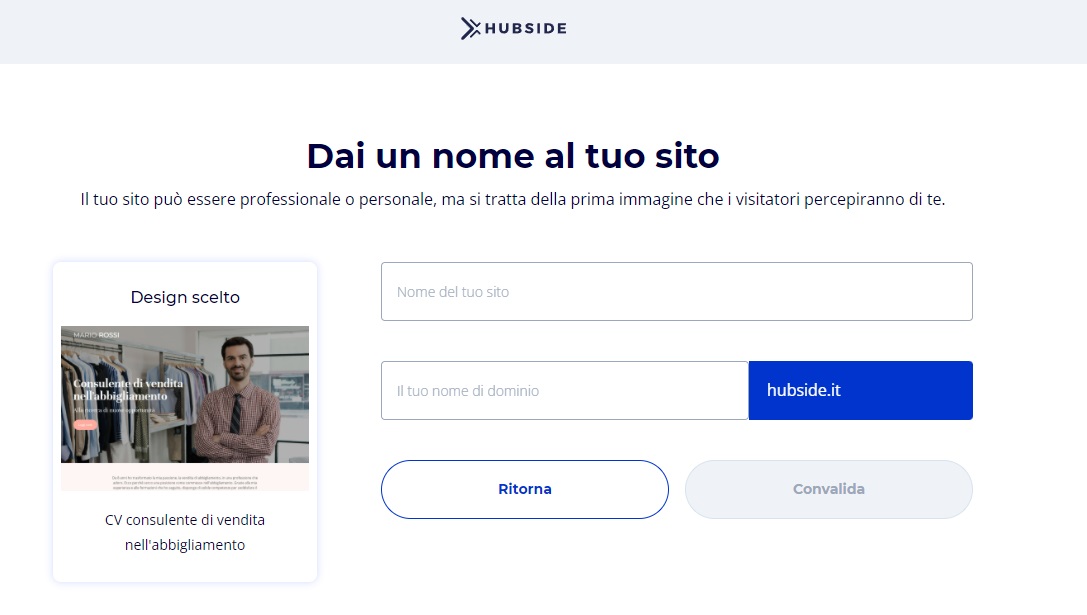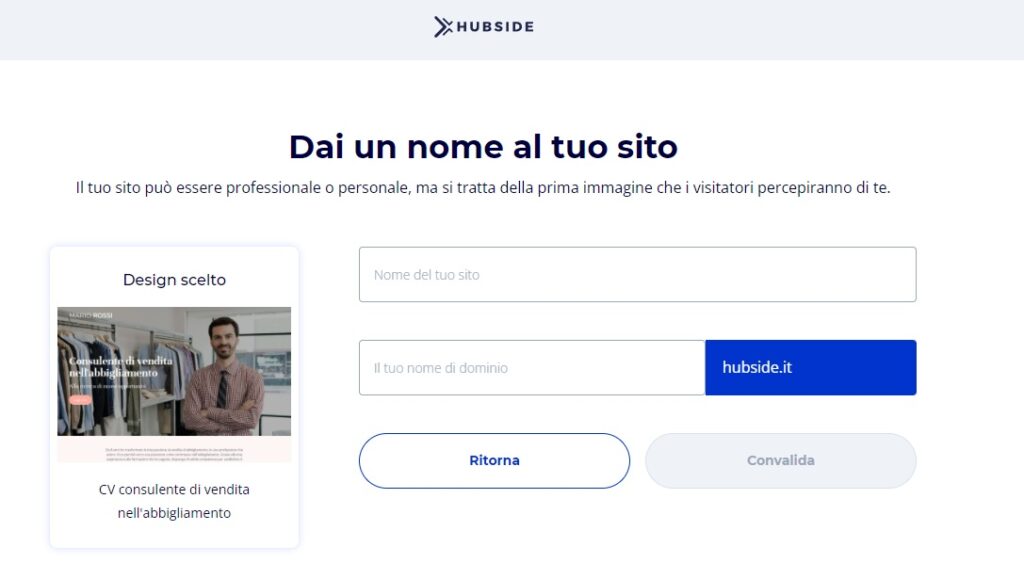 Why do I have a Hubside Direct Debit?
If you have subscribed to an offer proposed by Hubside, then you will be debited from your bank account. If you have any doubts about a direct debit, please do not hesitate to contact an advisor in order to review your case. Security and transparency are values dear to Hubside, which does everything possible to ensure your satisfaction.
How to cancel a Hubside contract?
If you change your mind and wish to cancel your Hubside offer, you must contact an advisor on 04 75 24 24 60 within 30 days. If you miss this deadline, you will need to send a registered letter with acknowledgement of receipt within one month before the anniversary date of your contract.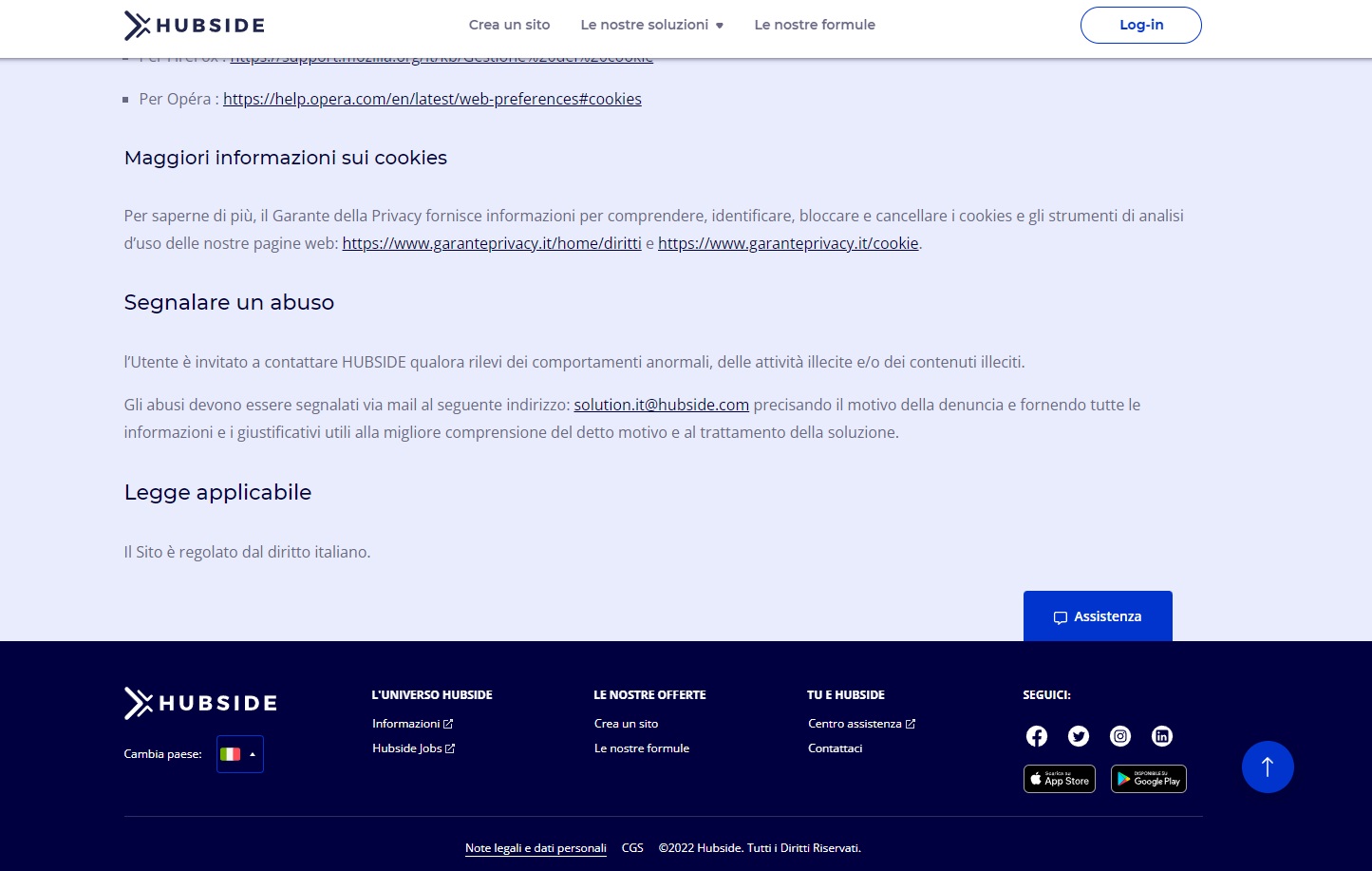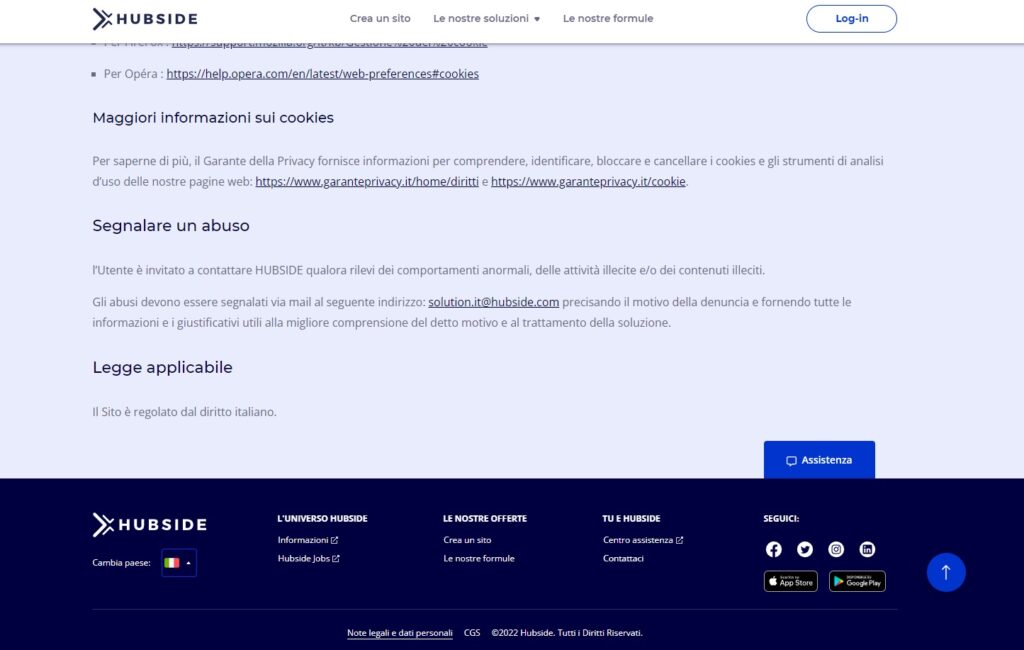 We are sorry that this post was not useful for you!
Let us improve this post!
Tell us how we can improve this post?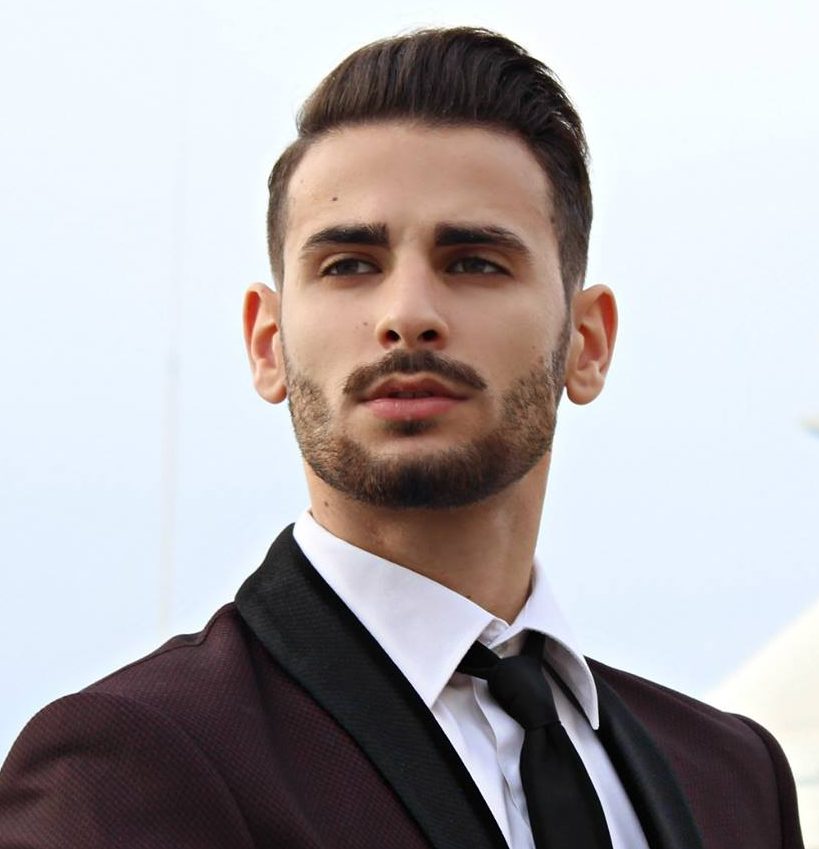 Hi, I'm Corrado Firera, digital entrepreneur and Italian blogger. I founded this website in 2017, since then I write fashion and lifestyle articles. To get further information about me or the web site, go directly to the "about me" section. Good continuation!!