Grey hair affects everyone. From a certain age, their appearance is inevitable, due to the cessation of production of the hormone responsible for pigmentation: melanin. That said, it is useful to remember that the appearance of grey hair is not necessarily linked to age but can ruin your fancy haircut. In fact, it can appear as early as adolescence, which can be explained by genetic reasons. In either case, it's not the end of the world, as it is entirely possible to hide it. So how do you hide grey hair? Find out in the following!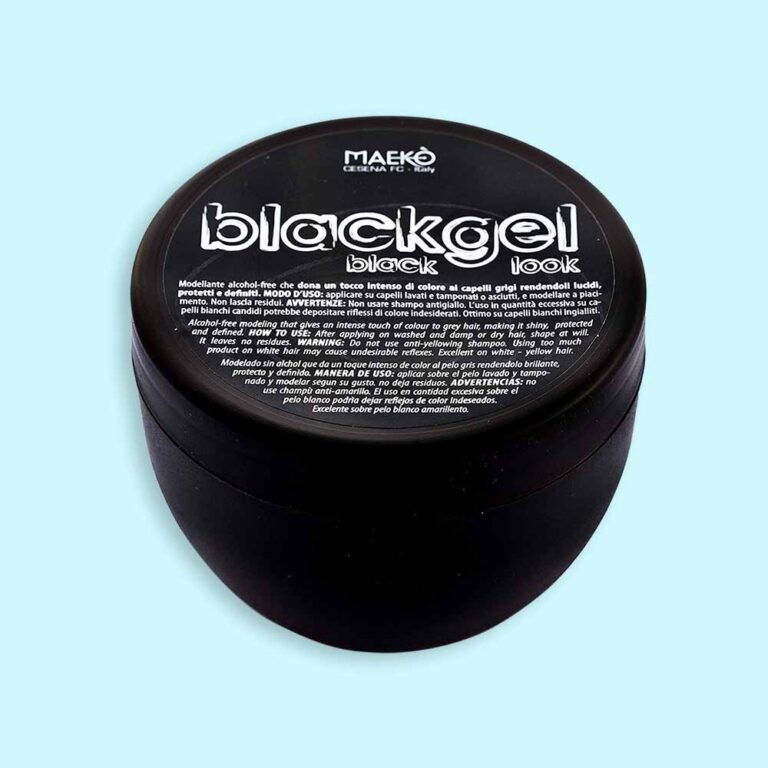 Conceal grey hair with a gel 
The Maeko brand has a clever way of concealing grey hair: Blackgel, a medium-hold grey hair colouring gel. Blackgel is an alcohol-free shaping agent that gives grey hair a touch of intense colour, while making it shinier and protecting it. In addition to eliminating unattractive yellow highlights, this Maeko gel leaves no residue and is easily removed with shampoo. For best results, simply apply a small amount of gel to damp or dry hair before styling. Avoid applying too much product and use it with an anti-yellowing shampoo. Maeko also offers an anti-yellowing shampoo, as well as a wax to mask grey hair.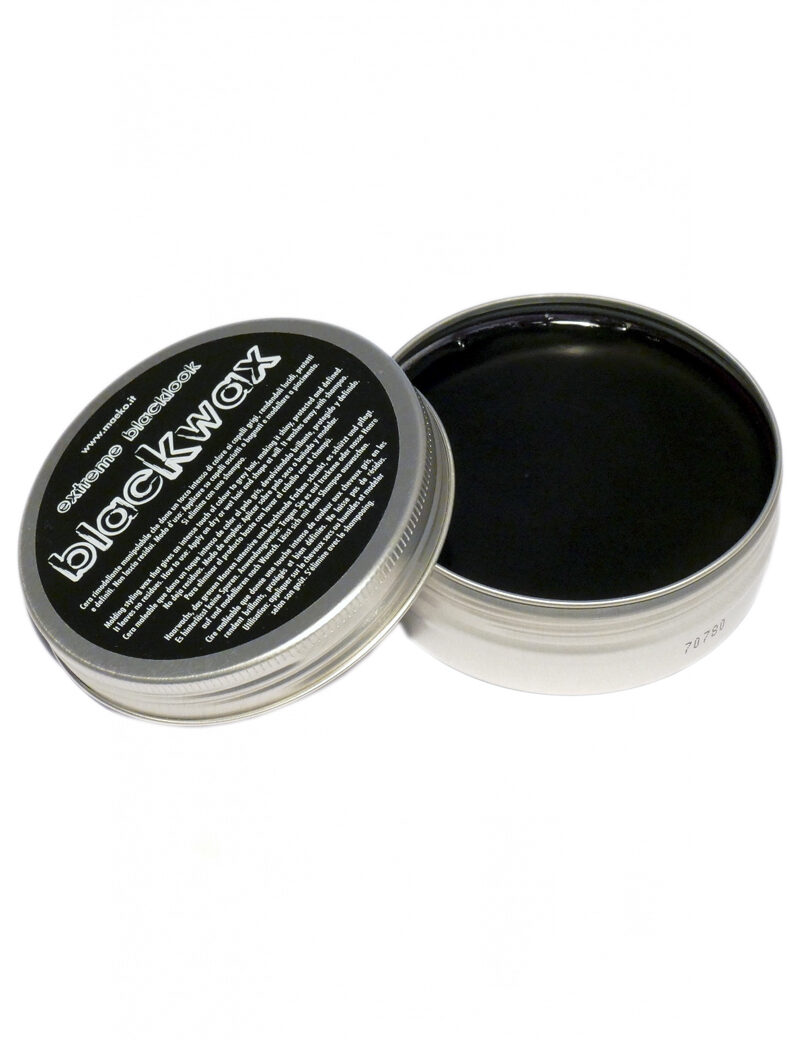 Black Wax
Called "Black Wax", Maeko's strong hold black wax offers long-lasting hold and a matt finish. Its black colour makes it easy to mask white hair, while giving it an intense effect, as well as a texture that can be shaped at will and lasts all day. Like Blackgel, Black Wax leaves no residue and is easily removed with a shampoo. 
Black Wax can be applied in small amounts to wet or dry hair. Dispense the desired amount of product into your palm, rub it in with both hands to warm it up and distribute it evenly over your hair. Now all you have to do is shape it as you wish until you get the result you want. A product that should be in every man's beauty kit.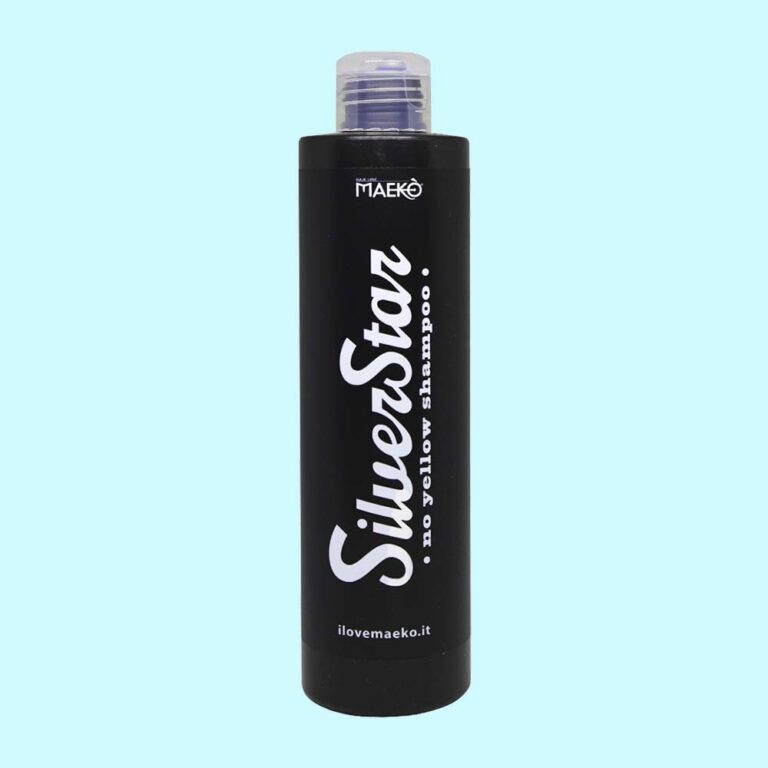 Silverstar, Maeko's anti-yellowing shampoo for grey or bleached hair 
Silverstar Anti-Yellowing Shampoo works on three levels: it cleanses the hair, gives it shine and moisturises it. Silverstar is specifically formulated to correct unattractive yellow highlights on grey/white hair in a simple, quick and convenient way. Made with gentle surfactants, Maeko's Anti-Yellowing Shampoo gently cleanses and protects grey hair, while adding shine and lustre.
For best results, apply the desired amount of shampoo evenly to damp hair and massage it in thoroughly. Leave on for 2-3 minutes and rinse thoroughly.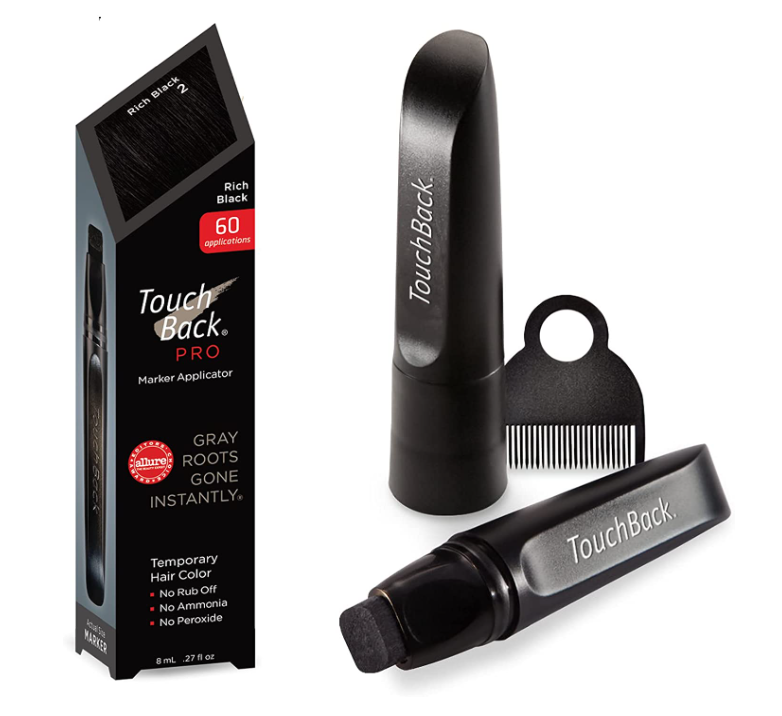 Masking grey hair with a touch-up pen 
Gel is not the only way to hide your grey hair. There are other ways to hide grey hair, including root touch-up pens such as the TouchBack Pro – Deep Black. This root touch-up marker covers white roots almost instantly. Formulated without harsh chemicals, peroxide or ammonia, this product is perfect for hiding grey hair with real colour, all in a convenient "marker" format. TouchBack Pro contains hair colouring agents that adhere perfectly to the hair to give it a natural look. Unlike sprays or mascaras for grey hair, the colour of the TouchBack Pro does not rub off. So you can brush your hair after applying the product without fear of the colour fading. However, be careful not to confuse this colour marker with hair colouring at the hairdresser. While it can quickly conceal grey hair, its durability is relative. In concrete terms, the product will last between two shampoos, but no longer. 
The TouchBack brand offers another variation of its root touch-up product, the medium brown TouchBack for the roots of grey hair. Its promise? To instantly cover the regrowth of grey hair, with a drying time of barely a minute. The ideal alternative to mascara, this ammonia- and peroxide-free marker matches the hair colour perfectly. This explains why it is used consistently by women and men to conceal grey/white hair. This temporary dye is applied to dry hair, and can also be used for beards. In the case of stubborn grey hair, leave the marker in place on a spot for a few seconds to deposit an additional amount of colour.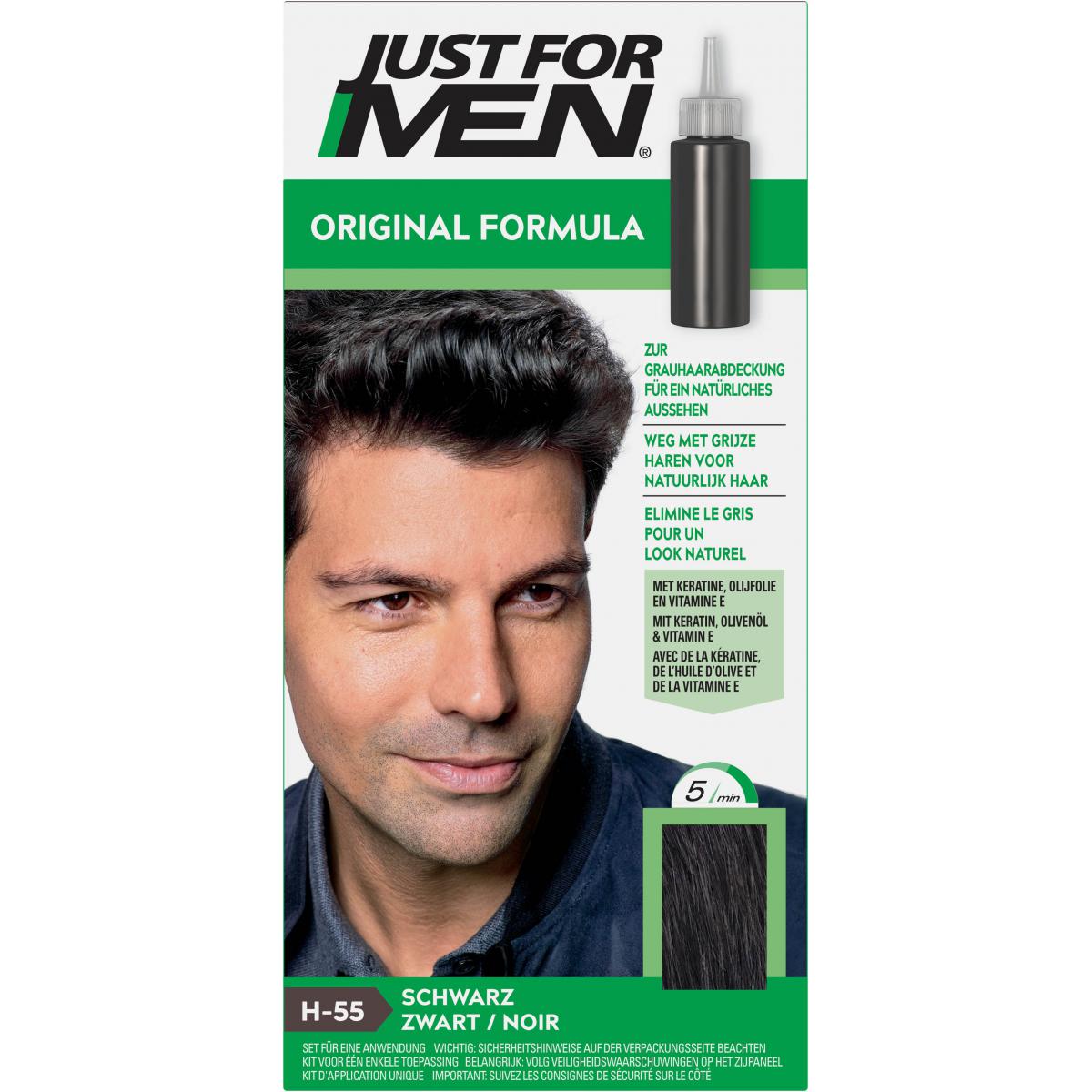 What about hair colour for men?
Just For Men's "Original Formula" hair colour for men is based on a patented technology that targets grey hair. In addition to its ability to conceal grey hair, the product also helps to make hair thicker and denser, while giving it a subtle, very natural look. Another important advantage of this colouring method is its ease of use. Simply mix the product before applying it to the hair, starting at the roots, then distribute it evenly using a comb. Wait 5 minutes and rinse thoroughly. And that's it!
When added to shampoo, this formula covers all grey hair, effectively and long term (up to 6 weeks!). Even more interestingly, the product only works on grey hair, which has the added bonus of preserving other shades of your natural hair colour. What's more, Just For Men hair colour deeply nourishes and strengthens the hair with each application, thanks to its formula rich in protein, vitamin E, aloe vera and chamomile. 
We are sorry that this post was not useful for you!
Let us improve this post!
Tell us how we can improve this post?